International activities
Mediation offices of Eastern Finland monitor the international development of mediation actively and participate in international seminars and meetings. In Eastern Finland, mediators carry on an active cooperation with their Russian counterparts. Joint projects aim at developing the mediation services on both sides of the border and challenging the participants to take a fresh new perspective to their own work.
Mediation in progress – developing conflict resolution (2013–2014)
In 2013-2014, a development project entitled Mediation in Progress is carried out in the framework of the Karelia ENPI CBC Programme. The main objective of the project is to improve the mediation of crimes and disputes, with special emphasis on cases involving young people.
The lead partner of the project is the University of Eastern Finland. Other partners include the North Karelia Mediation Office for Finland and the Youth Union Doroga, the Children and Youth Centre of Petrozavodsk, and the Ministry of Education of the Republic of Karelia for Russia.
The main activities of the project are the following:
arranging continuing education courses, targeted to mediators, on topics such as restorative justice and multicultural mediation,
recruiting and training new mediators in the Republic of Karelia,
making mediation services available in new areas in the Republic of Karelia, including the opening of new mediation offices in Petrozavodsk, Sortavala, and Pryazha,
improving cooperation between the mediation offices and the authorities associated with mediation, such as regional authorities and the police, and
distributing information on mediation.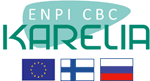 More information about the project is
available on the website of the
University of Eastern Finland (in English)
and on the website of the
Mediation services of Karelia (in Russian).
Sovitellen – mediation in Eastern Finland
and in the Republic of Karelia (2011-2012)
In 2011-2012, a project of cooperation between neighbouring areas, funded by the Finnish Ministry for Foreign Affairs, was carried out. In it, mediation models suitable for the Russian system were developed in the Republic of Karelia, and Finnish practices of mediation and of cooperation among authorities were presented.
At the end of the project, a report was published on different forms of mediation in Finland and Russia. The report, entitled Sovittelu – vaihtoehtoinen valinta ('Mediation – a Feasible Alternative') (ed. by Kortelainen, Sonja & Koistinen, Jarmo, 2012), is available, in Finnish and Russian, in the mediation data bank.